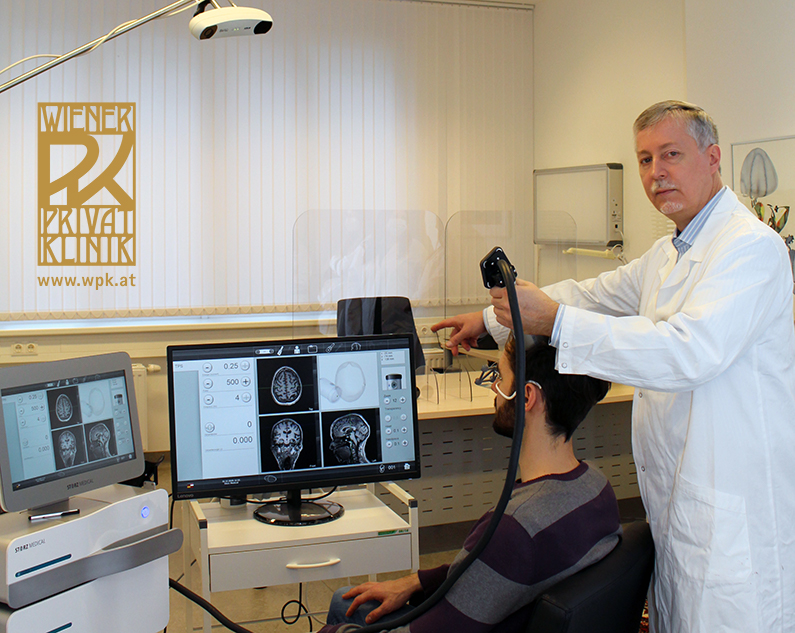 TRANSCRANIAL PULSE STIMULATION
Roland Beisteiner, M.D. Professor of Neurology
A new Center for Therapy and Development of TRANSCRANIAL PULSE STIMULATION (TPS) based on ultrasound has been established at Wiener Privatklinik hospital. After 10 years of development and heading an international consortium, PROF. ROLAND BEISTEINER, M.D. developed a completely new rehabilitation therapy for brain diseases. The new technique uses short ultrasound pulses to activate key areas of the brain with ultrahigh precision. This helps to restore lost abilities. The pulses are delivered non-invasively via a transmitter attached to the head and applying ultrasound gel. The new therapy is perfectly tolerated, painless, and requires no medication. It offers an additional therapeutic opportunity, as all established therapies can be continued unchanged.
In the internationally acclaimed initial description by PROF. BEISTEINER, memory impairment in DEMENTIA could be improved over 3 months. Therapeutic opportunities also exist for other brain diseases that respond to brain activation, such as PARKINSON'S disease, NEURODEGENERATION, STROKE, MULTIPLE SCLEROSIS, or CHRONIC PAIN SYNDROMES.
Safe application of the complex therapy requires highly specialized brain knowledge and exceptional expertise for functional brain diagnostics and brain network analysis. When correctly applied, TPS is comfortable and safe for the patient. For every patient, Prof. Beisteiner establishes an individual treatment protocol, based on the latest results of his research group.
The new development was nominated for the Austria Gala "Austrian of the Year".
Contact:
TPS phone: 0043 681 20671146
E-Mail: TPS-Therapie-Prof-Beisteiner@posteo.at