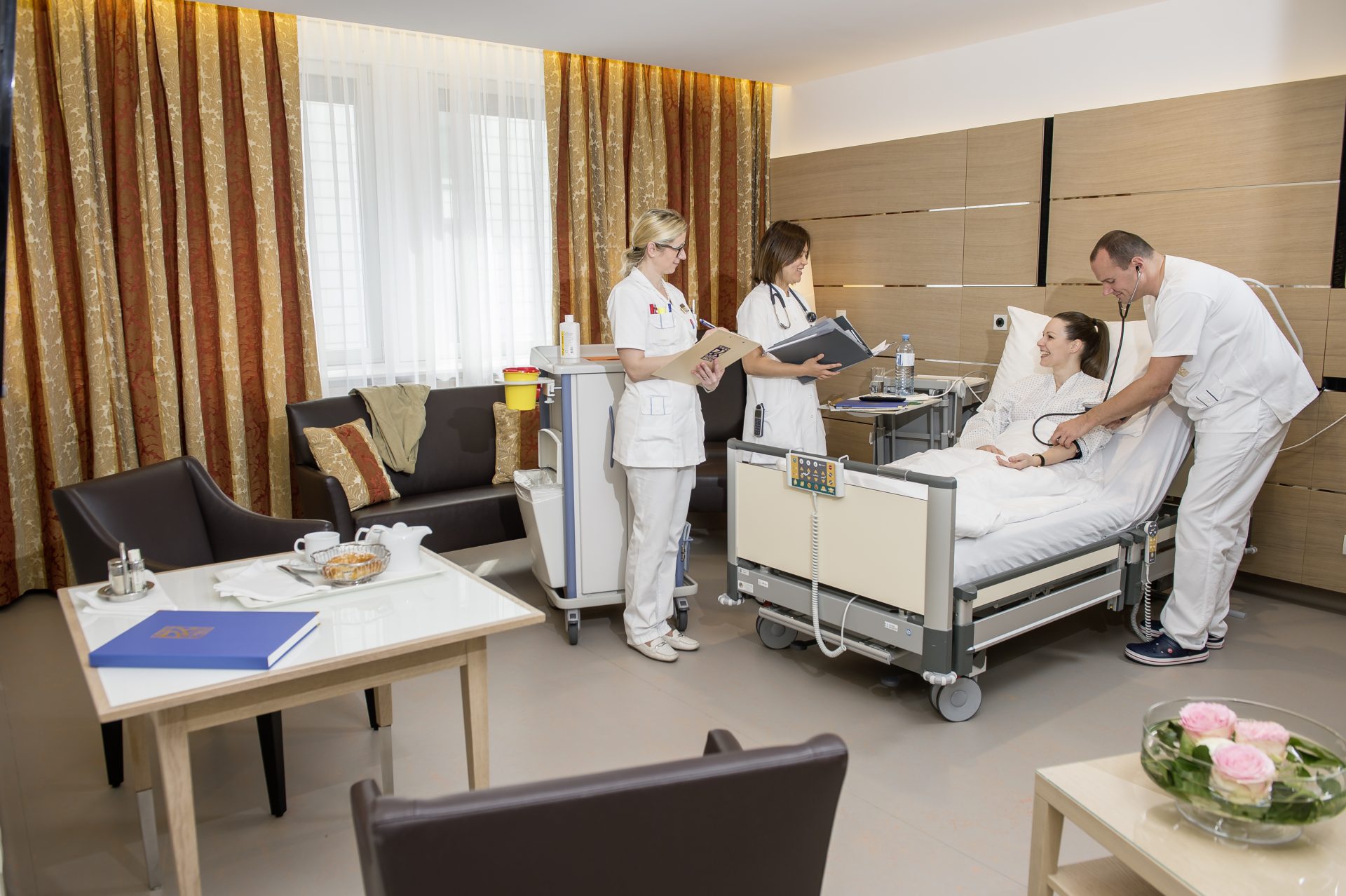 At the Vienna Private Hospital you do not need to change your living standard. We offer the classy ambience of a luxury hotel: big, comfortable and modern rooms, a beautiful terrace in our green park, high end cuisine, a sunny lit cafeteria and its small shop. We also deliver you the morning paper, and arrange, at your request, for a hair stylist, foot care and massage.
At the Vienna Private Hospital, we offer you the comfort and safety of home, the luxury of an elegant hotel, superb in-room dining, as well as a bright and welcoming cafeteria and gift shop surrounded by a scenic terrace that overlooks a large expanse of beautiful greenery. Our spacious, modern rooms offer all the comfort and amenities you may desire during your stay with us. Additionally, we provide morning papers, and if requested, arrange for in-room hairstyling, manicure/pedicure, and massages.
ROOMS WITH QUALITY
Our single and double rooms promise the highest comfort: secured safe in the bedside table, private telephone with access via chip card, air condition, minibar, radio and TV (various international satellite programs), as well as your personal Internet and fax access.
WPK MED CUISINE- EXCELLENT CUISINE
Besides first class medical care, the most important aspect for us is the well – being and the comfort of our patients. Feel as if you are in a restaurant and chose out of a carefully composed menu. Take what you desire and is in accordance with your diet. All menus are freshly prepared and made of first class ingredients, in consideration of your individual or religious needs and wishes.
Alongside to the first-class medical care we are keen to offer our patients an overall level of comfort and well-being while residing in our house. Our patients can select their meals from daily meal plans, designed with special consideration to their health, individual taste, and religious background.