Cancer Center Vienna
Mission & Value
OUR MISSION IS TO DIAGNOSE AND TREAT CANCER PATIENTS ON THE HIGHEST LEVEL OF QUALITY, INDIVIDUAL MEDICAL ATTENTION AND PERSONAL CARE.
The distinctive feature of the Wiener Privatklinik is a combination of exceptional diagnostic and treatment standards, including state of the art technology, equipment and techniques, and the availability of a huge team of internationally renowned physicians, covering various fields and specialties, and representing the world famous Vienna School of medicine. Both the physical proximity, as well as the constant interaction between all specialists helps in the decision making process, and in the actual implementation of said decisions. Coupled with the world-famous Viennese hospitality, reflected by top notch hospital and housing standards, our hospital is located in the center of the beautiful city of Vienna, which attracts millions of tourists all around the year.
Moreover, Austria is known to require the shortest amount of time between drug registration and access in Europe, which in turn is reflected on the patient care provided at the Wiener Privatklinik Academy Cancer Center (WPK ACC).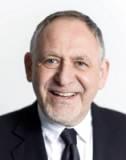 Univ.-Prof. Dr. Dr.h.c. Christoph Zielinski, the head of WPK Academy Cancer Center is an international renowned medical oncologist.
"We at WPK ACC work as one team, united by a common goal to improve the quality of life of our patients."
As a team of medical oncologists, surgeons, urologists, orthopedic surgeons, dermatologists, and specialists across the medical spectrum we are treating all types of cancers in very different stages and provide patients with the most modern diagnostic, therapeutic techniques, clinical care, high level graduate education and outstanding supportive care services.