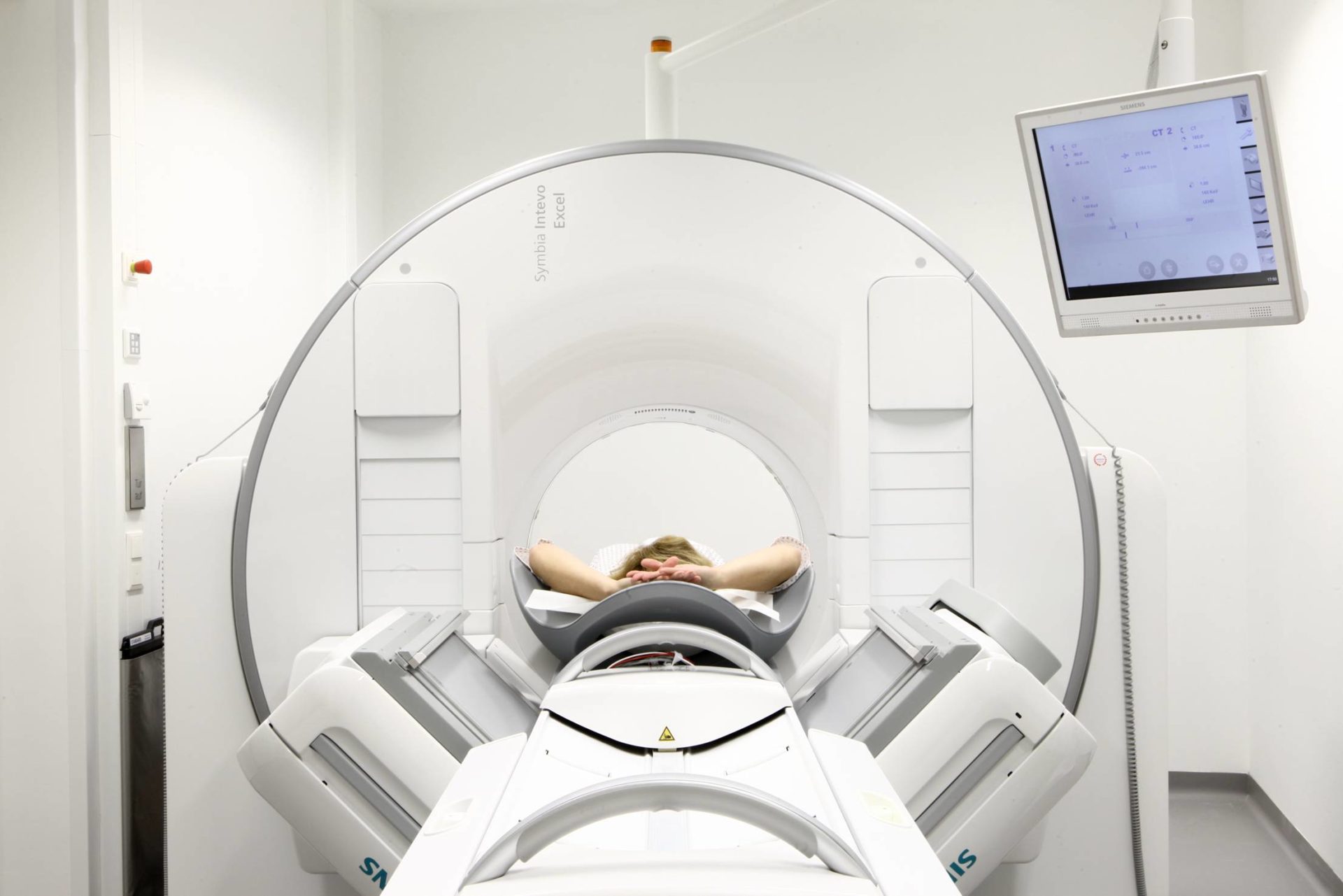 Nuclear Medicine Vienna
Wiener Privatklinik offers a wide variety of nuclear medicine diagnostics in its Radiology Center.
Modern imaging diagnostics without nuclear medicine? That is simply inconceivable.
The Wiener Privatklinik and its Radiology Center have a huge advantage over the competition when it comes to nuclear medicine diagnostics:
The combination of medicine at the very highest European level and simultaneous patient proximity.
High-resolution images through Nuclear Medicine at the Wiener Privatklinik
Nuclear medicine examinations provide complete series of high-resolution images for the assessment of organ functions.
For this purpose – by means of a single injection – a so-called tracer, a tiny amount of radioactive substance with a short half-life, is introduced into the bloodstream in this process.
Highly sensitive measuring devices manage to measure the temporal and spatial distribution of those tracers in the body and to calculate images, reflecting metabolism.
Examination of All Organ Systems by Tracers: Nuclear Medicine in Vienna at the Wiener Privatklinik
The diversity of tracers at Wiener Privatklinik enables the examination of almost all organ systems. At the same time, these have the outstanding function that the respective metabolic processes to be examined remain absolutely unaffected.
Myocardial scintigraphy at the Wiener Privatklinik
Perfusion of the myocardium and a reliable method for risk and prognosis assessment in coronary artery disease.
Bone Scintigraphy
Can provide answers to disorders of bone metabolism in both oncologic and orthopedic settings.
Positron emission tomography (PET)
The physical properties of the radionuclides used here are specifically suited for pinpoint diagnostics. Energy (sugar) metabolism can be imaged here. In numerous tumor diseases, this is used for accurate pre- and post-therapeutic staging as well as for tumor or primary screening when tumor diseases are suspected.
Thyroid Coordination
The Wiener Privatklinik and its nuclear medicine unit at the Radiology Center offer even more: thyroid coordination for the evaluation and treatment of thyroid disease and for the comprehensive care of patients with differentiated thyroid carcinoma. The spectrum of treatment includes all stages from diagnosis to follow-up.
Hybrid procedures at the Wiener Privatklinik
Let's move on to the highlights of the Radiology Center and nuclear medicine in Vienna at Wiener Privatklinik: a SPECT/CT as well as a PET/CT device of the latest generation.
What is so special about hybrid imaging and why it is so significant? Hybrid imaging makes it possible to perfectly combine functional diagnostics that visualize nuclear medicine metabolic processes with computed tomography that depicts anatomical structures. The result is a range of limitless innovative possibilities in the fields of diagnosis, treatment planning and therapy success monitoring.
SPECT/CT is used in many different areas: for example, in neurology, heart disease and orthopedics.
The Radiology Center at Wiener Privatklinik performs a wide range of different examinations: Thyroid scintigraphy including uptake measurement (goiter, hyperfunction), exercise myocardial scintigraphy (coronary artery disease), renal scintigraphy (side-separated function), brain perfusion scintigraphy (dementia, stroke risk), brain receptor scintigraphy (Parkinson's disease), iodine whole-body scintigraphy (thyroid cancer) and many more.
PET/CT at Wiener Privatklinik for Oncologic Evaluation
PET/CT is eminently suitable for caring for oncologic patients: whether to assess the extent of disease before initiating therapy or even to assess the level and extent of response to therapy in certain tumors.
Nuclear Medicine in Vienna is nuclear medicine at the Wiener Privatklinik. The Radiology Center offers the full range of examination options:
18F-FDG
By using a radioactively labeled sugar solution, the energy needs of tumors, for example, but also brain metabolism are made transparent.
Oncology
Tumor activity is visualized for diagnosis, staging, and monitoring of treatment response to many tumors.
Neurology
Metabolic function of the brain is presented.
Nuclear Medicine in Vienna: Nuclear Medicine at the Wiener Privatklinik
This article aimed to give you a small overview of the diagnostic diversity that our Radiology Center at Wiener Privatklinik offers you. Discover nuclear medicine in Vienna with us and contact us today!
Additonally, you have the chance now to get your second opinion in Radiology online at our Online Healthcare Center! Contact us today and discover your medical second opinion online here!