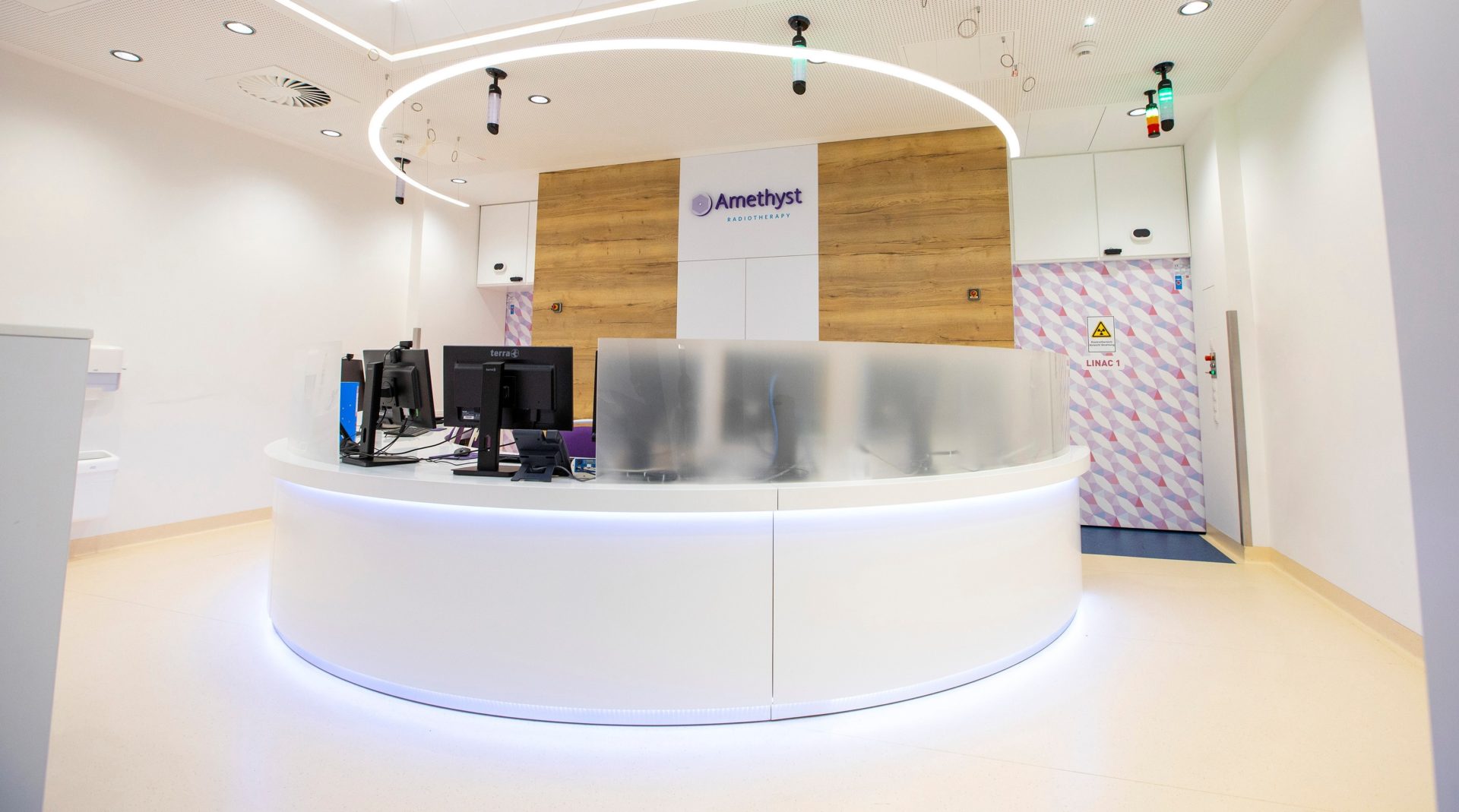 Radiotherapy
Amethyst Radiotherapy Vienna
Private Practice at the Wiener Privatklinik
Amethyst Radiotherapy is Europe's fastest growing cancer treatment facility. Amethyst combines the expertise of Europe's leading cancer experts and the latest, most advanced techniques and equipment to provide patients with the best possible care. The focus here is on radiation oncology.
Amethyst Radiation Oncology and Radiation Therapy Centers offer the most precise and advanced cancer treatments available. In 2020 alone, Amethyst medical teams comprising more than 100 doctors in thirteen centers treated over 30,000 cancer patients.
Our Treatments
Radiotherapy is a central part of modern tumor medicine. In today's medical environment, treatments by medical and surgical interventions in combination with state-of-the-art radiotherapy are the key success factors.
But not only for cancer treatments; radiotherapy also shows sustainable and successful results in a numberof orthopedic diseases symptoms such as heel spur, inflammatory achilles tendon irritation, tennis and golf elbow or joint and tendon tear. These treatments are done with a very low radiation dose.
In any situation at Amethyst Radiotherapy Austria, a comprehensive medical examination and special
personal care is always based on the individual needs of the patients, applying the latest scientific research, andensuring the use of latest technology.
Before the decision for a treatment at Amethyst Radiotherapy Austria is taken, we conduct a detailed consultation with each patient, during which all of the patients' questions and concerns are being openly discussed.
We Treat
Tumor diseases that require radiation treatment alone or combined chemoradiation:
Breast Cancer
Prostate carcinoma, bladder cancer
Skin Tumor (basalioma, spinalioma, Mercel-cell carcinoma, melanoma, squamous cell carcinoma)
Head and neck tumors (naso-, oro-, hypopharynx and larynx carcinoma)
Lymphoma, plasmacytoma, Hodgkin and Non-Hodgkin lymphoma
Lung tumors (bronchial carcinoma, pleural mesothelioma, thymoma)
Gastrointestinal tumors (esophagus, pancreas, stomach, rectum, anal carcinoma, diolangiocarcinoma)
Brain tumors (glioblastoma, astrocytoma, acoustic neuroma and meningioma)
Tumors of the genital organs (cervix, corpus, vulva and vaginal carcinoma)
Sarcomas
Metastases (brain, bones, lymph nodes, lungs, and liver metastases)
Benign diseases of the tendons and joints that can be treated with radiation therapy
Wear diseases and joints (osteoarthritis)
Bursa and tendon (bursitis and tendinitis)
Tendon attachment disorders (insertion tendinopathy)
Achilles tendon pain (achillodynia)
Heel spur
Connective tissue disease of the hand (Dupuytren's disease)
Connective tissue disease of the foot (Ledderhose's disease)
Disease of the eye socket (endocrine orbitopathy)
Enlargement of the mammary gland in men (gynecomastia)
Scar growths (keloid scar)
Benign tumors of the spine (hemangiomas)
Individual treatments without any waiting time
Immediate assignment of treatment sessions without any delay, any day of the week, on a 24/7 basis
Treatments are planned individually for any patient based on an individual computed tomographic screening. The medical staff (the radiotherapist and the doctor) is working out the treatment plan with an utmost focus on protecting healthy organs and tissue.
Individual radiotherapy sessions are done daily, about 10-15 minutes each, over a period of a couple of weeks.
During the sessions doctors will take care of the patients all the time and will also provide consultations regarding nutrition and physiotherapy.
Even after the completion of the radiotherapy sessions we are always available for our patients and offer regular screening and medical examinations.
With the latest technology
Radiotherapy has significantly increased the chance of healing for a number of different tumors. Side effects have thereby been reduced to a minimum and neighboring organs are protected.
Our state-of-the-art treatment system is provided by the Swedish company Elekta and is complemented by a very innovative precision medical technique. This results in the most modern linear accelerator with integrated CT available for radiation treatments worldwide.
Innovative radiotherapy Procedures
lntensity modulated radiotherapy (IMRT)
Stereotactic radiotherapy
Respiratory Gating
Volumetrie modulated arc therapy (VMAT)
Image guided radiotherapy (IGRT)
PET-CT in cooperation with the Radiology Center