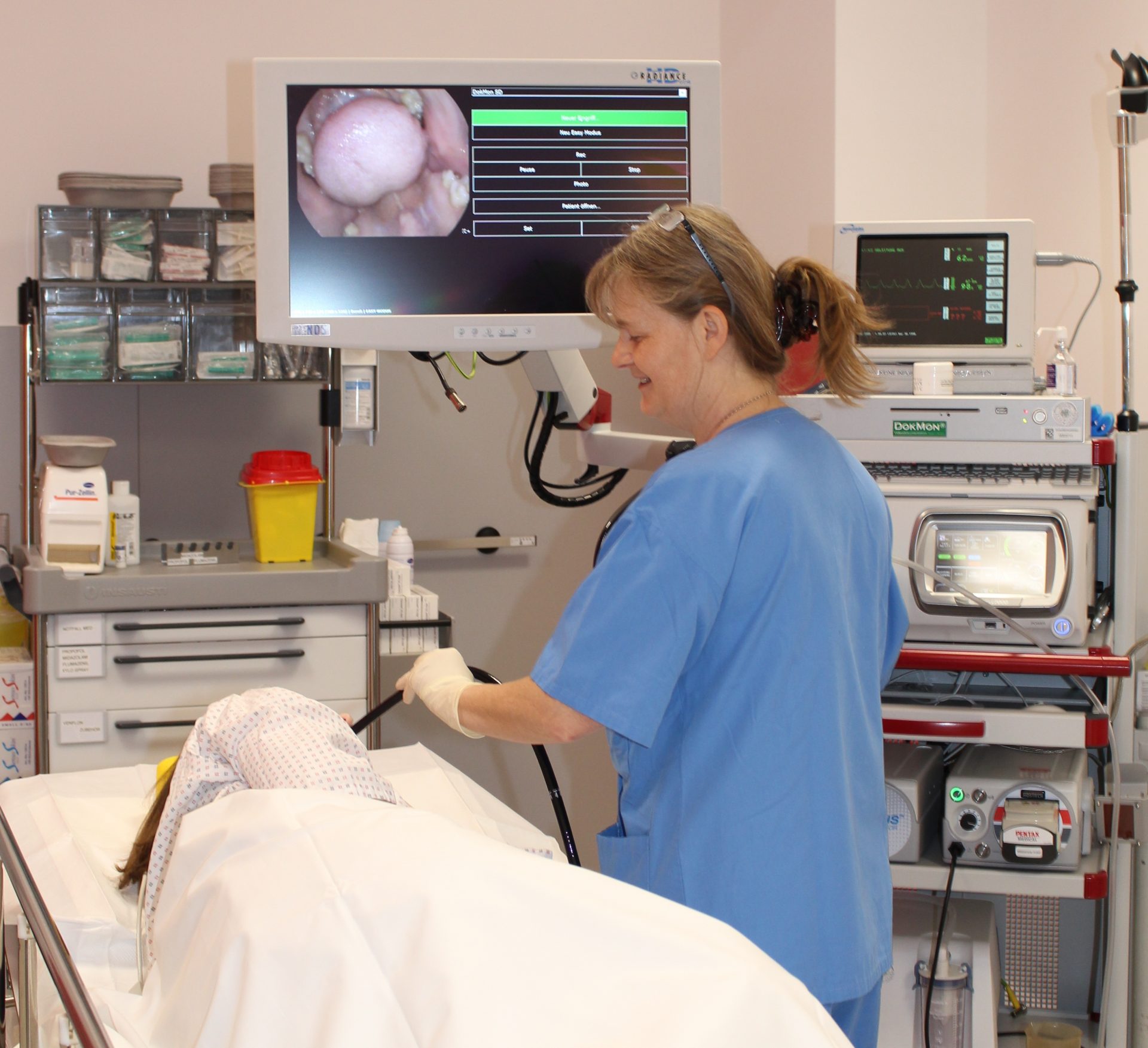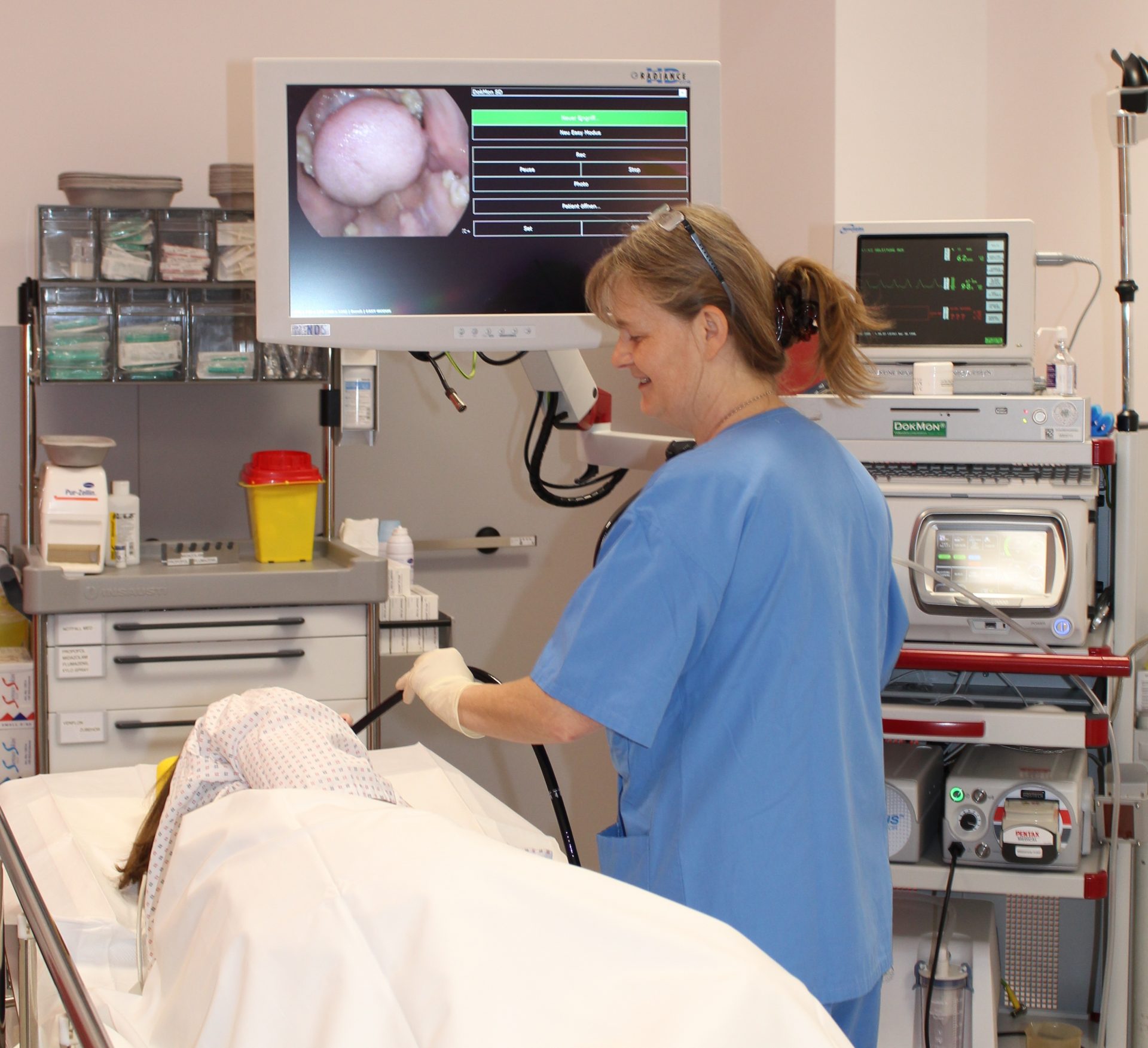 Gastroenterology Vienna
Gastroenterology and Hepathology - Competence Center Gastroscopy and Hepathology
Endoscopes are divided into:
Gastroscopy = endoscopy from the upper digestive tract
Colonoscopy = endoscopy of the colon
Gastroscopy
Complaints of the upper belly are addressed by way of a gastroscopy or upper gastrointestinal endoscopy.
The following endoscopies can be performed within the process of a gastroscopy:
Esophageal endoscopy
Gastrointestinal endoscopy (all sections)
Endoscopy of the small intestine (duodenum)
Endoscopy of the bile ducts
It is possible to perform all forms of gastroscopies, whether diagnostic or therapeutic in one session.
During the gastroscopy, a tissue sample (histology) is collected.
Diagnostic method for all diseases of upper digestive tract:
All esophageal disorders (Reflux, fracture of the diaphragm, inflammation, and esophageal tumors)
All disorders of the stomach (Gastritis, ulcer, erosion, stomach tumors)
All Duodenal diseases (Inflammation of the small intestine, ulcer, erosion, tumors)
Therapeutic procedures – Hemostasis through all possible technical procedures, all technical possibilities, removal of polyps from any part of the stomach, ablative mucosectomy, and, if necessary, stent placement.
Colonoscopy
Colonoscopy is a diagnostic endoscopy of the rectum to the duodenum (small intestine), covering all sections of the colon.
It is a precautionary procedure recommended for anyone 45 years of age or more.
Investigation is necessary at the onset of a simple case of hemorrhoids, diverticulum, intestinal inflammation (Crohn's disease), ulcerative colitis, polyps, or carcinoma, for which a biopsy will be necessary.
Therapeutic Procedures – Removal of polyps is a significant therapeutic intervention, primarily as a precaution against carcinomas. Further measures include hemorrhoid treatment through ligature, and sclerotherapy.
All endoscopic procedures are gentle, and are performed under mild sedation.
Patients are closely monitored during and after the procedure.
Based on our advanced diagnostic methods, and the findings of the endoscopic procedure, as well as the histology, our specialists then create a personalized "state of the art" therapy for each individual patient. The close collaboration with our pathologists, state of the art diagnostic procedure, as well as top notch therapy, offer our patients much higher success rates for healing and recovery.
Our Endoscopic Competence Center houses the most advanced, modern technology in the form of:
Ultrasound
Computer Tomography (CT)
Magnetic Resonance Imaging (MRI)
Position Emission Tomography/Computer Tomography (PET/CT)
Bariatric Surgery
Our Competence Center for Gastroenterology and Hepatology also offers the most advanced forms of bariatric surgery (weight reduction surgeries). This is based on a physician's recommendation, and takes place after extensive pre-operative check-ups and investigations:
These surgeries include:
Stomach Reduction (Sleeve)
Gastric bypass
Gastric band
Stomach balloon
The Competence Center for Gastroenterology and Hepatology will, as the full name suggests, more than just the above mentioned endoscopic procedures are performed. The diagnosis and therapy of the following organs also takes place.
Liver: All liver diseases, from fatty liver, inflammation of the liver, liver tumor, as well as congenital diseases of the liver such as Hepatitis A, B, and C, all related to fatty liver – metabolic syndrome.
Pancreas: Diseases can occur from the simple inflammation of the pancreas, to diabetes, to the carcinoma of the pancreas.
Gall system – Gall bladder: Diseases of the bile system and the gallbladder consist of simple inflammation of the bile ducts and the gall bladder, to bile stones, tumorous changes of the bile ducts, as well as chronic inflammatory disease of the biliary tract.
For the diagnosis of all these diseases of the afore mentioned organs, our center houses the most modern laboratory equipment, as well as imaging equipment such as:
Ultrasound
Computer Tomography (CT)
Magnetic Resonance Imaging (MRI)
Position Emission Tomography/Computer Tomography (PET/CT), which can also be utilized for diagnostic-therapeutic purposes and puncture CT targeted, when needed.
First-class intestinal endoscopy
From colon cancer care to diagnostic examinations for intestinal complaints, the day clinic of the WPK performs top quality colonoscopies.
For those who fear colonoscopies, the time of painful procedures is in the past. This is reaffirmed by Gastroenterologist and Hepatolgist, Univ.-Prof. Dr. Siegfried Meryn, who stated that with the use of Sedoanalgesia, combination of sedation and local anesthesia, patients will be calm, pain free, and asleep during the procedure. Even the pre-procedural preparations, namely flushing out the intestines are completely painless today.
Colon cancer screening
One of the primary reasons for performing a colonoscopy is colorectal cancer screening. According to Prof. Meryn, colorectal cancer affects women most frequently, and is the second most frequent non-gender-specific cancer in men.
He explains that the screening is a vital measure for prevention or early detection of colorectal cancer. The investigation may reveal polyps (adenomas) that if removed immediately may prevent them from developing into cancer.
Familiar Predisposition
In Austria, colonoscopies are performed every five years starting the age of 50, latest. For those with family members with colon cancer, it is usually recommended to have them earlier and at shorter intervals thereafter. Prof. Meryn explained that should a small benign polyp be discovered and removed during the investigation, the next check-up won't be needed for five years. However, should an adenoma with dysplasia be discovered, the patient will be strongly advised to return for a follow up check-up in two to six months. If a serrated adenoma is removed, the next check-up won't be necessary for two or three years.
Other Disorders
There are various other reasons to have a colonoscopy. The intestine is the largest and most vital immune organ. Gastroenternologist and Helpatologist, Prim. Dr. Camel Kopty, explained that long lasting diarrheal diseases, constipation, convulsions of the intestine, change in stool behavior, blood in stool, or a significant weight loss are all definite indications for the need of a bowel screening. The afore mentioned symptoms can be indicative of a number of diseases, among which are:
Chronic inflammation (Crohn's Disease)
Ulcerative Colitis
Diverticulitis or the inflammation of benign protuberances in the intestine
A bacterial infection
Viruses
Parasites
Colorectal cancer that developed due to lack of timely colon screening.
Prim. Dr. Kopty believes that in recent years, and due to modern medication, cases of intestinal bleeding have been more frequent. Medications to prevent heart attacks and stroke, as well as chronic pain medications often cause intestinal discomfort, and may even lead to hemorrhage. He also pointed out that unrestrained usage of antibiotics often causes intestinal diseases.
Top Technology
The day clinic at WPK houses top notch, state of the art gastrointestinal examination equipment. Our endoscopy equipment provides images with extraordinarily high resolution (HD +), which reveals the minutest lesions during an examination, as well as zoom function, which allows far more precision and detail. Prim. Dr. Kopty reiterated the exceptionally superior endoscopic equipment at WPK, which meets the highest "world class" standards. Equipment cleaning is automatic and computer monitored, with every step being thoroughly documented. Other than the actual endoscope, all instruments used at WPK are disposable. Instruments, such as snares used to remove a polyp are disposed of after the procedure. In a colonoscopy of the highest standard, not only are top notch equipment and highly professional doctors an absolute must, but also a qualified and well-trained nursing staff. WPK's outstandingly coordinated teams are continuously trained in, and furnished with the latest knowledge and state of the art equipment.
Moreover, day clinic recovery rooms are staffed with exceptionally trained nursing teams, who supervise and monitor patients following their procedures.  Both Prof. Meryn and Dr. Kopty give high praise to both the endoscopy teams, as well as the post-endoscopy teams in recovery rooms, who meet with the highest standards.
(articlel from the "Journal für Private Medizin 02/2017")